December 15, 2020
Tips for Attending A Virtual Conference
Image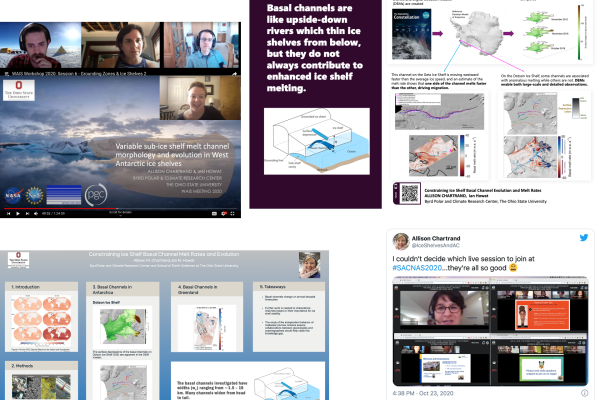 Description
Tips For Attending A Virtual Conference DECEMBER 15, 2020
Are you attending a virtual conference this year or next? Unfamiliar with this new content, Graduate Student Allison Chartrand created some tips for attending a virtual conference!
The year 2020 has altered nearly every facet of scientific life (and of course, life in general). However, scientific communities have risen to the challenges presented by the barriers to holding scientific conferences in person. In a matter of months, professional societies and scientific organizations have transitioned their conference programs to fully virtual formats, which undoubtedly presented a steep learning curve to the organizers as well as the attendees. I have personally attended and presented at three virtual scientific conferences this semester, and I have learned a lot about how to get the most out of the virtual sessions, and I've also learned a lot about myself! I shared several tips for attending virtual conferences with the SES Graduate Student Club at our December 3 meeting, but I hope they can be useful for the broader SES community as well! Here they are:
Take time to become familiar with the conference website/online platform
Make sure you know how to access the meeting schedule and both live and recorded talks and sessions. The first conference I attended this fall, the West Antarctic Ice Sheet Workshop, was fairly small, so all of the zoom links for the live sessions were shared on a Google Doc, and I could add these to my Google Calendar ahead of time. The next conference I attended, the SACNAS National Diversity in STEM Conference, was larger and had an online platform. This platform listed all events for each day, and each event was tagged with keywords about the topics covered and whether the session was available on-demand (recorded); however, there was no functionality to add events to a schedule ahead of time, so I had to do a lot of planning ahead of time to make sure I prioritized live sessions. The final conference, the American Geophysical Fall Meeting, used two online platforms; one is just like the online scheduling platform that has existed for in-person meetings for years, updated with zoom links for live sessions, and the other hosts the poster and exhibit halls, as well as links to sessions happening now. Accessing these platforms as soon as they're available is helpful for planning ahead.
Set up your schedule ahead of time, prioritizing talks and events that haven't been or won't be recorded
If you are presenting, adhere to upload deadlines and presentation guidelines, and PRACTICE!
If you are presenting, getting to know the conference platform is of the utmost importance. You should know well in advance in what format your presentation should be (Posters: pdf, ppt, iPoster, etc.; Talks: mp4, mov, YouTube link, etc.) and how to upload them. Both SACNAS and AGU offered written and video tutorials for this process. You should also know how to access and share your presentation within the conference platform. If you record your talk or present live, practice speaking to your computer screen - you can even open a zoom meeting for yourself and practice (and record!) your talk there. 
Take breaks so you can stay engaged when you need to 
Again, planning ahead helps with this. I can only focus on a virtual talk when I am actively taking notes, so it was important for me to set up a note-taking strategy (I use OneNote, and I have a Section for virtual conferences and workshops, with a separate Page for each conference I attend). I have seen that others stay focused by doing puzzles or doodling - find what works for you! And take breaks - nap, take a walk, grab a hot drink… whatever you need to do to recharge. 
Figure out how to organize your thoughts and notes
As I mentioned, I use OneNote, and I also take screenshots and add them to my Notebook when I see a particularly poignant figure or idea on the speaker's slides. I also copy and paste all links shared in the Zoom chat into my Notebook - this is a huge advantage of the virtual setting! Some conferences (including AGU) provide notebooks on their online platforms, and some people like Google Docs or pen & paper… again, find out what works for you.
Use the online platform and/or social media to engage with others at the conference and to advertise your events
Conferences have used hashtags on Twitter for years, but at a virtual conference, you don't necessarily have to have FOMO (fear of missing out) reading tweets about all the great talks you're missing, because there is a good chance they are recorded! Twitter is also a great way to garner interest in your presentation, find out which talks you should "attend" and congratulate others on their presentations, and continue discussions beyond the conference. Both SACNAS and AGU allowed attendees the opportunity to create a profile within the conference platform so that attendees could contact and schedule meetings with one another as well. Taking advantage of these social engagement opportunities can save you time searching for email addresses and can truly enhance your conference experience. 
---