Body
Majoring in Earth Sciences
The School of Earth Sciences offers two undergraduate degree programs, the Bachelor of Arts (B.A.) and the Bachelor of Science (B.S.). The B.A. Program is a broad geological program generally designed for students interested in preparing for careers in high school science teaching, law school, medical school, business school or technical writing. Learn more by clicking the button below!
Advanced
Text
The B.S. program in Earth Sciences is designed to offer a comprehensive undergraduate background in the Earth Sciences, complemented by a broad understanding in science and mathematics. We prepare our B.S. majors through a  core curriculum for careers as professional earth scientists in industry, government, or academia. During a student's third year as a major, B.S. students declare a certificate program, minor, or double major.
Approved minors:
Any minor offered by departments in the Arts and Sciences' Natural and Mathematical Sciences
Anthropology
Engineering Sciences (ENG)
Geographic Information Systems (Geography)
Petroleum Engineering (CEBE)
Environmental Engineering
Surveying and Mapping
Education
Global Public Health
Science, Engineering and Public Policy
Environment, Economy, Development, and Sustainability (ENR)
Environmental Science (ENR)
Society and Environmental Science (ENR)
Soil Science (ENR)
Science and Technology Studies
Professional Writing
Any foreign language
Any minor proposed by the student to further their post-baccalaureate goals
Approved certificates:
Geographic Information Systems (Geography)
The B.S. program also requires undergraduate research experience with the completion of a senior thesis. Students typically begin their undergraduate research in their 2nd or 3rd year. With a senior thesis advisor, a student selects a research area and a project. The senior thesis involves close collaboration with a faculty member both to conduct the research and to convey the results of this research in a senior thesis document. Notes: the Geological Sciences Subprogram requires the annual field geology course (a.k.a. "field camp") in Utah during a Summer Term.
The B.S. program requires comprehensive preparation in basic science and mathematics, with 3 subprogram tracks: 
Image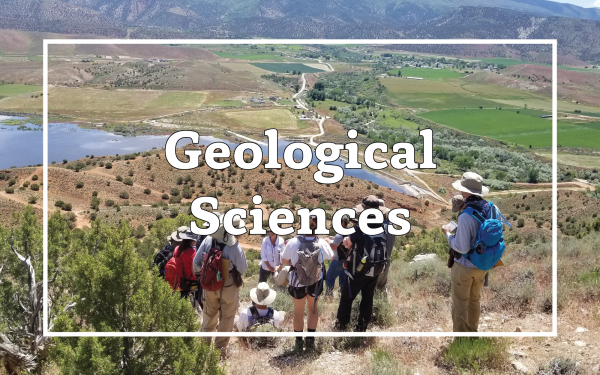 Image