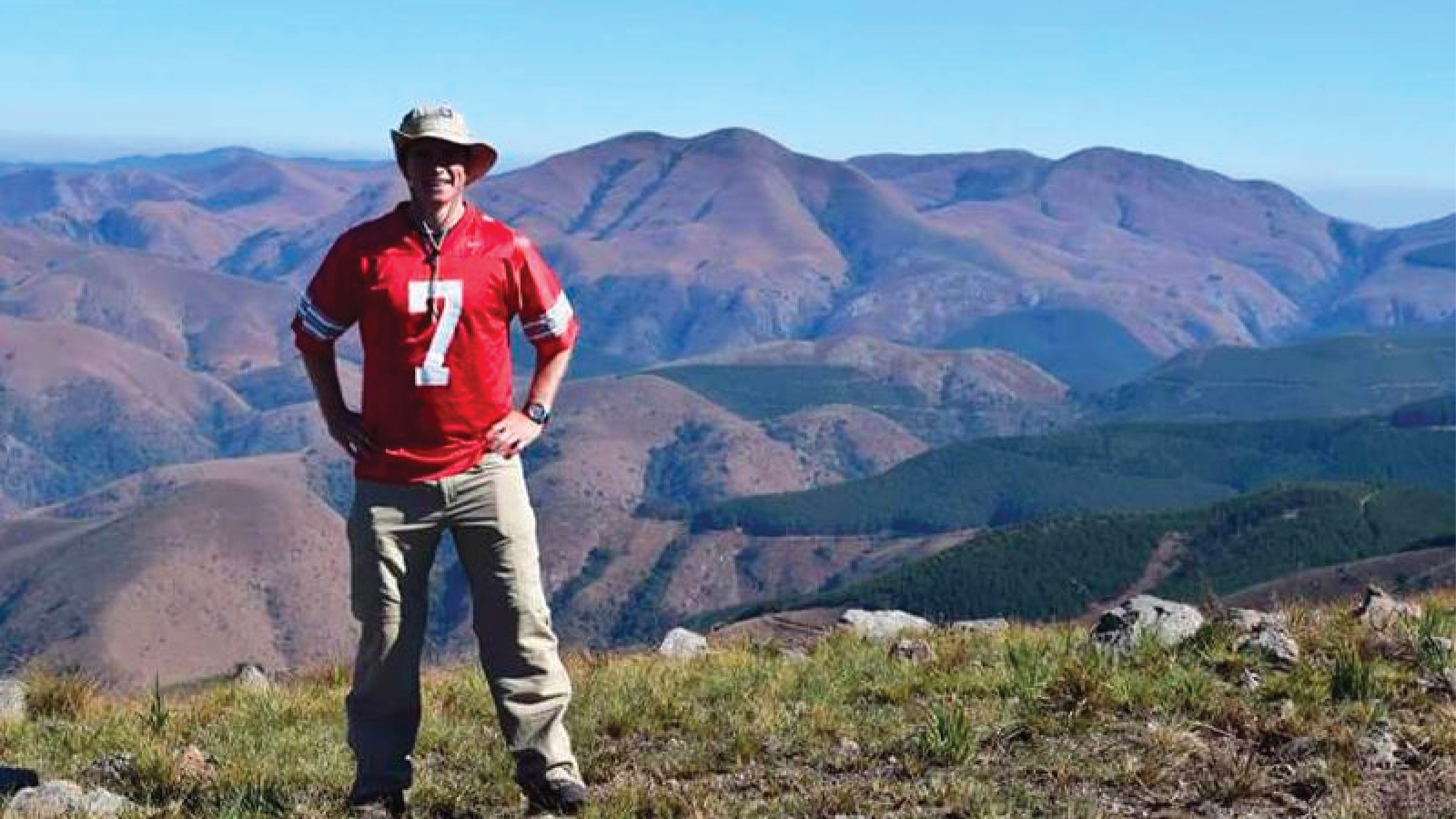 Jake Harrington earned his B.S. in Earth Science from SES in 2015 and his M.Sc. from Stanford in 2017. Jake currently works as a Geologist for Matador Resources Company.
Contact: jharrington@matadorresources.com
"Ohio State's undergraduate Earth Science program is second to none. After meeting fellow geoscientists from all sorts of backgrounds in graduate school and in the professional world, I am convinced that you cannot have a better place to begin your geology career than at OSU."
Where has your degree taken you?
I started out at OSU in the Exploration program for undecided students. I stumbled upon Earth Sciences and took the introductory class (121 back then) with Dr. Anne Carey. After seeing all the different aspects of geology and how it combines many different disciplines of science, math, even history, I knew it was the right place. Getting involved in research got me interested in the oil and gas industry, specifically the exploration side. I learned I would need to go to graduate school so I started looking for programs that were connected with the industry to build on my senior thesis work with noble gas geochemistry of the Eagle Ford Shale in south Texas. I was accepted to the Stanford Project on Deep-water Depositional Systems group at Stanford University, a research consortium sponsored by many oil companies from all over the world looking to understand more about mainly turbidite sandstone reservoirs. The first big shift happened when I started school there. My advisor, Dr. Don Lowe, also did research on the early Earth, focused on the Archean Barberton Greenstone Belt of South Africa, a mountainous region featuring beautiful outcrops of 3.5 to 3.1 billion year old rocks. Don explained he had a project in mind for a Master's student out there that would still apply to deep-water sedimentology and would involve field work in South Africa, so I jumped all over it. I used many techniques including sandstone petrography, shale geochemistry, field mapping and stratigraphy, and detrital zircon geochronology to understand whether a series of structurally separated sedimentary sequences represented one original ocean basin or many smaller sites of deposition in a time of Earth's history when plate tectonics as we know it today had not yet developed. Some of these skills I was able to build on from experience at Ohio State, while others were very new to me. I was very close to switching from a Master's to a PhD after my first year, as I really enjoyed the work I was doing and the geologic questions surrounding the Archean. I did not, however, enjoy living in California and could not see myself staying there for five or six years to complete a PhD. A job offer came along for Matador Resources, by way of a connection made while interning in Houston the previous summer, as an exploration geologist. I always was fascinated by the shale boom and was excited at the chance to join a company that was also dedicated to the science behind how these plays work. Since starting in September of 2017, I have been involved in source rock geochemistry, biostratigraphy, and geomechanics projects, in addition to learning the operations side of drilling a well. I look forward to seeing what the future holds for both the oil and gas industry and my career!
How do you feel your experience, specifically as an SES/geology student at OSU, prepared you for your career or life in general?
Ohio State's undergraduate Earth Science program is second to none. After meeting fellow geoscientists from all sorts of backgrounds in graduate school and in the professional world, I am convinced that you cannot have a better place to begin your geology career than at OSU. First, our field camp is excellent. The mapping skills you develop, the ability to place your observations in a larger geologic context, and the experience of being in one of the most geologically diverse places in the world will benefit you for life. My grad school advisor sent me on a mapping assignment along the coast near Stanford's campus to make sure I was prepared for field work in South Africa. After I returned his only comments were about my lack of artistic abilities (something that plagued me during field camp too). I told him all credit goes to Ohio State's field camp. Second, the faculty are incredible. It took me a long time to fully understand how accomplished and renowned the men and women teaching your classes are. You are learning from experts. Go to class. Listen to them. Ask questions. They know a lot about a lot of topics. Third, and probably most important, the undergraduate thesis experience will set you ahead of so many of your peers at different institutions. Besides learning more about a specific problem in geology, you will gain project management skills, technical or laboratory skills, and communication skills that will help for years to come. Present at conferences, share your ideas at the Denman Undergraduate Research Forum, and talk with your classmates about research. Talk with your professors outside of geology about their research, too. Very few of us truly enjoy those introductory physics, chem, and bio courses, but the people teaching them do some really cool stuff. Learn about it and it might spark an interest in something you can apply to your geoscience education. Last, Ohio State's alumni and faculty network is so powerful. A research collaboration between a professor and an oil company in Houston got me my first internship down there. While there, I rented a room from an Ohio State geology alumnus. That led to my internships at Shell, which led, in a roundabout way, to the job I have now. Cody Trigg, B.S. 2013, was in the same research group at Stanford and was able to vouch for me while I was going through the application process. There are so many people connected to Ohio State and the School of Earth Sciences. We are on your side and want to see all of you succeed. Let us know how we can help.
What is your favorite memory as a student?
The Great Granite Debate of 2013 stands out. Spring 2013 we were on our field trip for Structural Geology in the Appalachians of Tennessee and North Carolina. For pretty much the entire class, this was our first real geology field trip so everyone was excited to show off all their skills from the classroom over the last few semesters. The first night we stayed at this super cheap motel, a Howard Johnson Inn or something of the like. The bathrooms at this dumpy inn had what appeared to be granite countertops. The class was pretty divided as to whether this was real or fake. Those in the 'real' camp argued it could definitely be real, as we were near some crystalline basement exposed in the Appalachians. Sure, makes sense. Those in the 'fake' camp argued that we were staying at a less than one star hotel, how in the world could they afford real granite countertops? Fair point. This goes on for a long time until somebody decides to get Dr. Terry Wilson, our professor, to settle the argument. Terry walks in, takes one quick look and goes "fake" then walks out without saying another word. The whole class erupts in shouts of "Ooooooh" and "I told you so" while Terry was shaking her head laughing at us in what must have been disappointment. A few of us went to the front desk to ask and the manager said he "had a granite guy" which sounds a little far-fetched but as far as I am concerned, the debate is unsettled.
What advice do you have for current and future students?
No matter what line of work you go into, get out there are start meeting people now! For better or worse, the line "It's not what you know, it's who you know" applies in industry, academia, government, and everything in between. If you're applying for graduate schools or want to become a professor, introduce yourself to professors at places like AGU or GSA. Find out if your professors have colleagues or former students in a discipline you want to pursue. Talk to alumni, go to society meetings, anything to meet people. The geoscience community is such a small world, use that to your advantage.