March 8, 2021
SES Salutes Dr. Florence Bascom First Female Professor of Geology
Image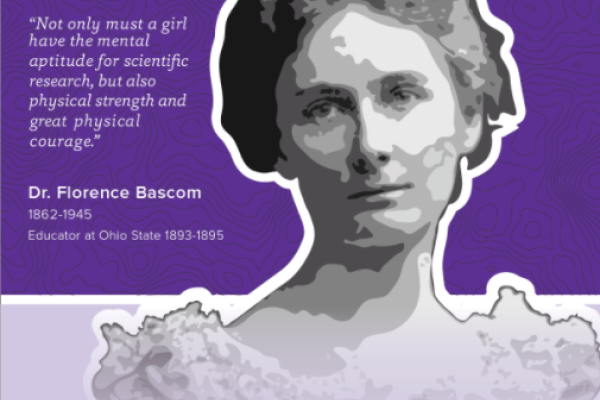 Description
"Not only must a girl have a mental aptitude for scientific research but also physical strength and great physical courage"
- Dr. Florence Bascom
Today, March 8th, 2021 marks International Women's Day. In honor of this celebration of the fortitude, resilience, and courage in every woman we salute Dr. Florence Bascom, as well as past, present, and future women in the School of Earth Sciences. 
Dr. Florence Bascom was born July 14, 1862, in Williamstown, Massachusetts to John and Emma Curtiss Bascom. Her father was a professor at Williams College and her mother was active in the suffrage movement. She and her four siblings were raised progressively as their family supported women's rights and education which at this time was not widely accepted. 
Florence lived a happy childhood, and in 1880 she entered the University of Wisconsin, first earning a degree in Arts and Letters, and then in 1884 a Bachelor of Science degree with coursework in geology. This is where her interest in geology truly sparked, and she continued on to earn a Masters of Science degree under Roland Duer Irving and Charles R. Van Hise both of the United States Geological Survey. 
She began her Ph.D. at John Hopkins University. While there she was forced to attend class behind a screen away from the men in the class. Geology at this time was 99% male-dominated, and she faced challenges in pursuing her career, but she never gave up. This has led her to become the Pioneer of Women Geologists. 
She was only the second woman to obtain a Ph.D. in geology. She had a successful career as a researcher and educator. Because of a connection to Edward Orton Sr. through her father, Bascom taught at The Ohio State University from 1893-1895. She was the first professor of geology at Ohio State. Orton Hall was built the same year she began teaching.
She left Ohio State to teach and conduct research at Bryn Mawr College. Florence had vast research interests including mineralogy, petrology, crystallography, acidic volcanoes, and cycles of erosion. She later went on to become the first woman to work at the United States Geological Survey until her retirement in 1926
Dr. Florence Bascom, a trailblazer in many ways, was also the first female geologist to present a paper to the Geological Society of Washington, the first woman elected to the council of the Geological Society of America, eventually becoming the first female officer of the society. Florence passed away of a stroke on June 18, 1945 at the age of 82. She is buried at the Williams College cemetery. 
Dr. Bascom made sure her legacy would survive the times, as she spent countless hours training future women geologists, encouraging hundreds to join the field. She notably trained Anna Jonas Stose, Louise Kingsley, Katherine Fowler Billings, Eleanora Bliss Knopf, Mary Porter, Julia Gardner, Maria Stadnichenko, Ida Ogilvie, Dorothy Wyckoff, Anna Heitonen, and Isabel Fothergill Smith.
The School of Earth Science is very proud to have been apart of Florence Bascom's incredible career and life. Her legacy is felt here and lives on in the women of our department. She also served as inspiration for the School of Earth Science ESME Initiative.
Dr. Florence Bascom, we salute you!
---