May 21, 2020
Creating New Traditions for Graduation During the COVID-19 Pandemic
Image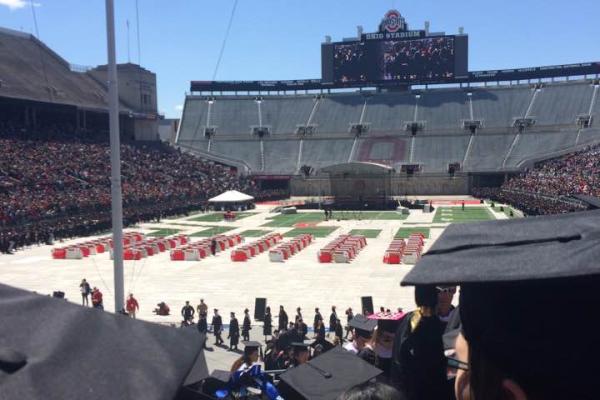 Description
Due to COVID-19, the 2020 Ohio State commencement ceremony was conducted virtually. Generally held in Ohio Stadium, spring commencement represents an important milestone for graduates. Commencement offers the chance to take a moment to mark a major life event, closing one chapter, and opening the next. All of the Spring 2020 graduates were sadly affected by this. Of course, the virtual ceremony offered by the university was everything that it could have been, but the lack of an in-person send off was sorely missed by our newly minted alumni. However, the university is planning to celebrate the Class of 2020 in person when it is both safe and practical to do so. More information will be provided by OSU as plans develop.
One set of SES alumni were especially impacted. Due to the requirements of defending, revising, and submitting the dissertation, graduate students have the ability to finish their degrees with an "end-of-semester" option, in which they participate in the commencement ceremony the semester following the semester of their defense. Some of our SES graduate students fell into this category and, as a result, Autumn end-of-semester students were unable to participate in the Spring commencement they had been waiting for due to COVID-19, on the other hand, some students completing the end-of-semester option for Spring 2020 were able to graduate sooner than expected.
While this is certainly an unprecedented graduation for our 2020 Spring graduates, it also represents a unique opportunity to be a part of history! Below is a screenshot of the official notice appearing on each students transcript.
To congratulate all of our graduates we are proud to announce our new SES tradition of hosting a celebration page on our website highlighting their remarkable achievements. What started as a way to celebrate our COVID-19 affected students blossomed into the idea to continually celebrate our graduates each semester into the future. Congratulations, Spring 2020 graduates! 
In order to continue to support our students so they can make memories like these, consider donating to one of our student support funds!
---