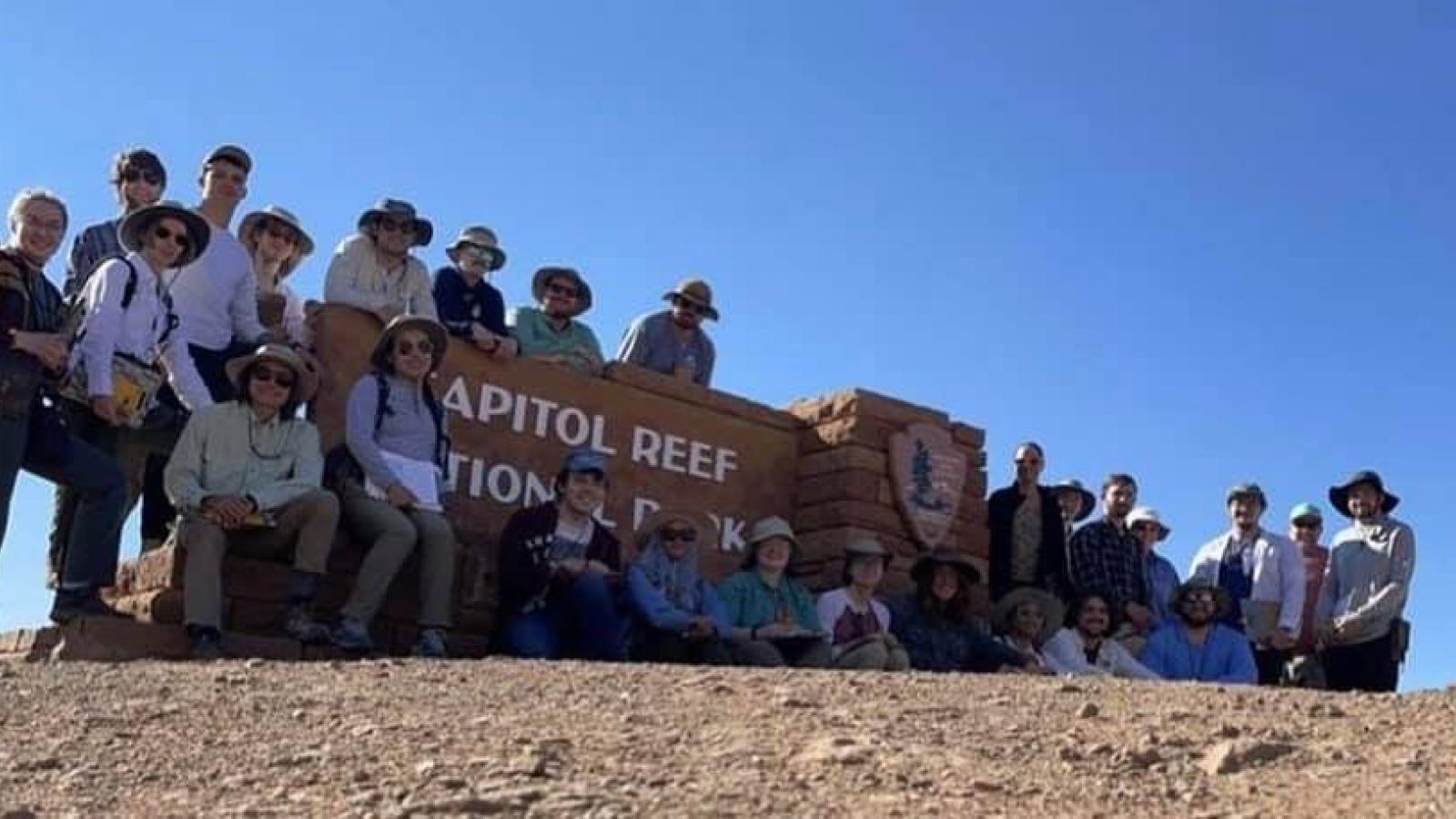 One of the most memorable and important parts of the student experience in the School of Earth Sciences is Field Camp. However due to the COVID-19 pandemic students were not able to attend in Summer 2020, but thanks to the hard work of faculty and staff our students are back in 2021. 
To ensure the safety of everyone involved additional safety guidelines have been developed by field camp leads Ashley Griffith and Cristina Millan.
Under normal circumstances:
The course is taught through outdoor field exercises located within a 30 minute radius of our home base in Ephraim, in addition to a weekly field trip to surrounding geological sites in Utah and Nevada, during which students camp in pre-booked group campsites. All fieldwork is conducted in remote locations, isolated from the general population. 
Under normal circumstances, students are transported to and from Ephraim in university vans, while some have arranged their own transportation.
While in Ephraim, students occupy apartments in a small private apartment complex that opens to a central courtyard.  Students are typically housed four students to an apartment, where each apartment has two bedrooms, one bathroom, a kitchen, and living and dining rooms.
Safety Considerations during 2021 field camp:
We have reached 100% vaccination for all field camp participants, so this makes operating during the pandemic much easier than we had initially planned.  Even so, we will take some precautions to ensure a safe experience for everyone
Our specific Field Camp program at Ohio State will allow us to create a bubble, allowing for effectively zero transmission between Field Camp participants and the general population.
The course is taught entirely outdoors on a combination of public and private land. Students will work in teams for safety reasons, but students will be teamed with student teammates from their own "pods"
We will use a pod system in which apartment groups will be consistently maintained in vans as well as during field exercises.
In vans, we will use sanitizer spray and paper towels or disinfecting wipes to wipe down vehicle high touch-point surfaces frequently.
Most equipment used by students will be assigned to individual students.  Any shared equipment will be sanitized between each user.
Instructors will maintain a central store of PPE supplies including disposable masks, gloves, and cleaning/disinfecting supplies.
All catered meals will be eaten "to go", rather than inside restaurants
Students are encouraged to eat their meals and/or socially interact with other students, faculty and staff outside, in the common courtyard of the apartment complex.
Protocols to test and maintain participant's health:
The School of Earth Sciences secured Covid-19 testing kits from Vault Health (current OSU viral testing supplier) for all participants for the duration of Field Camp.
Instructors will make sure all participants carry personal sanitation kits that include various disinfecting and sanitizing supplies.
Individuals are responsible for maintaining kits and refilling supplies when they are low and will communicate directly with instructors/staff for missing supplies.
All field activity participants should apply health and safety guidelines to themselves and should support other individuals in doing so.