Image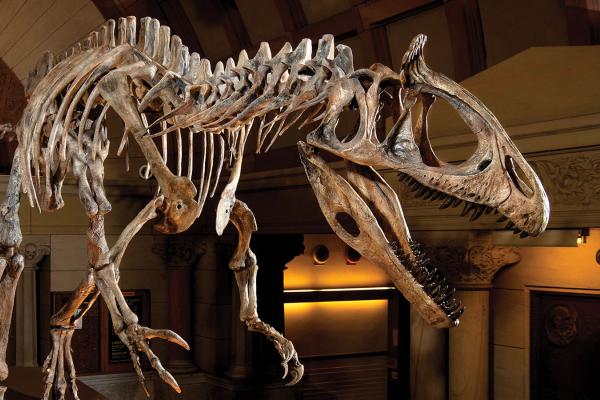 October 16, 2019
6:00PM - 8:00PM
Location
Orton Geological Museum 155 Oval Dr S, Columbus, OH 43210
Date Range
Add to Calendar
2019-10-16 18:00:00
2019-10-16 20:00:00
National Fossil Day
Hunt for dinosaur eggs. Thrill to a dino-themed storytime. See our complete dinosaur skeleton—now celebrating its first anniversary in the museum. Take a tour of the Orton Geological Museum. It all happens when you join us for National Fossil Day! It's free and open to the public. The fun kicks off at 6 p.m. with games, activities, and tours of the museum throughout the night. You'll also be among the first to see the new gift shop items. Our National Fossil Day event also serves as a celebration of the next chapter for the museum, with a series of new initiatives and programs slated to launch in the upcoming year under our new director, Dr. Loren Babcock National Fossil Day is an annual celebration held to highlight the scientific and educational value of paleontology and the importance of preserving fossils for future generations.   National Fossil Day Schedule Museum Open 8:00 am-8:00pm Fossil ID Booth 3:00-8:00pm 6:00pm-8:00pm Inside Carnival-style activities and games  Refreshments  Outside Activities Sandbox Fossil Dig  6:30 p.m. Dinosaur Story Time  7:00 p.m. Dino Egg Search  Questions? Please feel free to contact hunt.808@osu.edu
Orton Geological Museum 155 Oval Dr S, Columbus, OH 43210
OSU ASC Drupal 8
ascwebservices@osu.edu
America/New_York
public
Date Range
Add to Calendar
2019-10-16 18:00:00
2019-10-16 20:00:00
National Fossil Day
Hunt for dinosaur eggs. Thrill to a dino-themed storytime. See our complete dinosaur skeleton—now celebrating its first anniversary in the museum. Take a tour of the Orton Geological Museum. It all happens when you join us for National Fossil Day! It's free and open to the public. The fun kicks off at 6 p.m. with games, activities, and tours of the museum throughout the night. You'll also be among the first to see the new gift shop items. Our National Fossil Day event also serves as a celebration of the next chapter for the museum, with a series of new initiatives and programs slated to launch in the upcoming year under our new director, Dr. Loren Babcock National Fossil Day is an annual celebration held to highlight the scientific and educational value of paleontology and the importance of preserving fossils for future generations.   National Fossil Day Schedule Museum Open 8:00 am-8:00pm Fossil ID Booth 3:00-8:00pm 6:00pm-8:00pm Inside Carnival-style activities and games  Refreshments  Outside Activities Sandbox Fossil Dig  6:30 p.m. Dinosaur Story Time  7:00 p.m. Dino Egg Search  Questions? Please feel free to contact hunt.808@osu.edu
Orton Geological Museum 155 Oval Dr S, Columbus, OH 43210
School of Earth Sciences
earthsciences@osu.edu
America/New_York
public
Description
Hunt for dinosaur eggs.
Thrill to a dino-themed storytime.
See our complete dinosaur skeleton—now celebrating its first anniversary in the museum.
Take a tour of the Orton Geological Museum.
It all happens when you join us for National Fossil Day! It's free and open to the public.
The fun kicks off at 6 p.m. with games, activities, and tours of the museum throughout the night. You'll also be among the first to see the new gift shop items. Our National Fossil Day event also serves as a celebration of the next chapter for the museum, with a series of new initiatives and programs slated to launch in the upcoming year under our new director, Dr. Loren Babcock

National Fossil Day is an annual celebration held to highlight the scientific and educational value of paleontology and the importance of preserving fossils for future generations.
National Fossil Day Schedule
Museum Open 8:00 am-8:00pm
Fossil ID Booth 3:00-8:00pm
6:00pm-8:00pm Inside Carnival-style activities and games 
Refreshments 
Outside Activities

Sandbox Fossil Dig 
6:30 p.m. Dinosaur Story Time 
7:00 p.m. Dino Egg Search 
Questions? Please feel free to contact hunt.808@osu.edu
---